Description
Marseillan port
Marseillan, the home of the famous vermouth Noilly Prat is situated just 25 miles west of Montpellier, where the Canal du Midi enters the Bassin de Thau. Marseillan is a beautiful little fishing port, where one can sit in a little café and enjoy the famous oysters from the adjacent oyster beds of Bouzigues, washed down with a bottle of one of the many local whites. It is here that we found the family run domaine of Madeleine Saint Jean.
Consisting of 30 hectares of vines, it has been in the family for many generations, and they grow an amazingly eclectic range of grapes. In the reds there are Syrah, Grenache, Cabernet Sauvignon and Merlot, but also Marselan, l'Arinarnoa and l'Egiodola, while in the whites there are the more familiar varietals of Chardonnay, Sauvignon Blanc, Viognier et Muscat petit grain.
We were warmly welcomed by Max, one of the two sons, of the current generation, and we found the wines were a revelation of quality and individuality in an area which often produces sensible but boring whites. His brother Jeremy is responsible for viticulture and vinification and it is his experience working in many different domaines in the Languedoc and the Rhone that has contributed towards the great quality of their wines.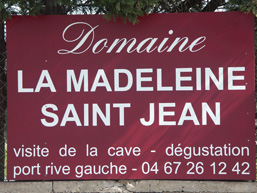 Domaine Madeleine Saint Jean La Maison Jaune 2010
Vin de Pays d'Oc (50cl)
This is labelled "Vendanges d'après", which refers to late date of harvesting, when the grapes are super-ripe. It is made from 50% Viognier and 50% Muscat and although it is not fortified, such is the ripeness of the grapes, that it weighs in at an amazing 16%!
It has a superb nose of ripe Muscat grapes, orange zest and spice, while on the palate it is rich, concentrated, packed with exotic fruit flavours. The unctuous sweetness is balanced by excellent acidity and there is a long aromatic aftertaste. Definitely a dessert wine, and one that would actually go extremely well with chocolate, which is notoriously difficult to partner with wine. Alternatively, do what the French do, have it with foie gras.