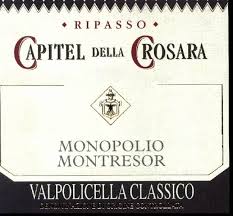 Capitel della Crosara Ripasso, Valpolicella 2014
Montressor Valpolicella Ripasso, Capitel della Crosara 2014 
This continues to be one of the great bargains that we show year after year. It is made from the indigenous grape varieties Corvina, Rondinella and Molinara grape varieties by the Ripasso method. This is medium/deep in colour with a gorgeous nose of morello cherries, and a soft, ripe, intense mouthful of morello cherry fruit and hints of cinnamon and wood smoke.